10 Awesome Wedding Decoration Resources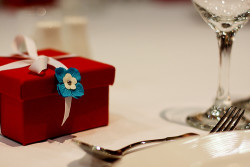 You want everything to be absolutely perfect for your wedding day, from the flowers to the decorations. Find awesome decorating ideas that are beautiful and unique, or with coordinated color schemes, or even theme based decorations, in our helpful list of resources. Working on a tight budget? No problem! There are many ways to save. Get some fabulous DIY tips for the room, centerpieces and tables. Your wedding decorations can be as simple or elegant as you desire.  No matter what you chose, your wedding will be beautiful!

Table Decorations
You want your tables in the reception hall to look absolutely beautiful, but how can you arrange it on your budget? Making your own wedding decorations is a great idea, especially with Martha Stewart's help. Add your personal touch and flair with over fifty ideas. They are simple to make.
Make a Plan
Theknot.com is one of the most popular wedding sites on the web. Here you will find beautiful and elegant decoration ideas for the room, table and church. Start by picking your color scheme. You will be rewarded with numerous unique wedding decoration ideas and designs. Find DIY decorating tips to help you save money.
Simple and Beautiful Ideas
There are many wedding expenses that you have while planning a wedding and they add up quickly. However, your reception hall and table decorations do not need to be one of them. Find some wonderful and simple ideas that will make your table and hall look like it cost a million bucks.
Picture Perfect
Do you need some fresh ideas for your wedding decorations? Maybe you are looking for some table ideas that unique and different? A picture speaks volumes. Find hundreds of awesome decoration photos that you won't have any problem replicating. Find beautiful centerpieces, wonderful ways to use candles or candy and more.
$1.00 Ideas
Are you planning your wedding on a tight budget? You don't have to spend a lot of money on your wedding decorations. Best of all, no one will have any idea that you didn't spend a fortune. Find some great ideas for all of your wedding decoration needs at the Dollar Tree.
Autumn Ideas
Autumn is such a beautiful time of year. The air is crisp and the changing landscape is full of vibrant color. Autumn is a wonderful time of year to celebrate a union. Get some fantastic decorating ideas for an autumn based theme wedding. Incorporate autumn colors and flavors into your reception and ceremony.
Winter Wonderland
Some folks love sitting on the beach, other want to be zipping down the              slopes. If you are one of the latter, a winter wonderland themed wedding could be perfect for you. Find some great winter decorating ideas for your invites, table setting, and hall.  These ideas are truly unique.
Do it yourself
Experts agree, more and more couples are making their own wedding decorations to cut down on the costs of their wedding. Not only that, but your own decorations let your personality shine through. If you are looking for some cool ideas, check out MSN. This page has some truly awesome ideas to spice up your wedding decorations..
Set up your Hall
Whether you plan a traditional or more modern reception, you will have to figure out how you want the layout of the room. Will your head table be placed in the front of the room, or possibly in a circle so that all guests can see each other? Check out some wonderful possibilities for the layout of your hall with some great decoration ideas.
Decorating on a Budget
There is no problem if you need to decorate for your wedding on a budget. You can do some simple things that will look beautiful and classy, not tacky. This site has some great ideas on how to make simple decoration out of everyday items or products that can be picked up very cheaply. Learn how to save hundreds of dollars on your wedding decorations.
---
Weddings Made Easy. WeddingsIllustrated.com.